SNOHOMISH WASHINGTON NEWSPAPER
Friday, February 27, 2015
Blackman Brothers
Published:06/15/2008 History
Blackman Brothers
Snohomish River and Historic First Street
The Blackman brothers arrived in Snohomish in 1872, from their native state of Maine where they were operators in logging and mills.

In the early days here, they had camps in Mukilteo, Marysville, Cathcart, Pilchuck, and Blackman's Lake where they logged for nine years, using oxen and mules on skid roads to haul from the woods and to the river dump.
In 1880 the brothers startled the entire Puget Sound region with the announcement that henceforth they would use railroad cars for hauling logs from their camps. The engine was like a modern donkey, on uprights driving direct to the big wheels which supported the locomotive. Wooden rails were used and it was necessary that the car wheels be flanged on both sides, in order to stay on the rails.

Hauls were made from Blackman's Lake to the dump at the foot of Maple Street much faster in larger quantities, and cheaper than by previous methods. A.A. Blackman was the inventor and patent holder of the famous truck, an innovation of the time. E. Blackman was the inventor of the tripper shingle machine which they used in the mills later. H. Blackman was the accountant and business manager of the Company through all the years the brothers were in business together. He took an active part in all civic affairs and politics; was the first mayor of Snohomish as well as a member of the Territorial Legislature, and a delegate to the Democratic National Convention in St. Louis. He was a charter member of Centennial Lodge No. 25 F. & A.M., also Knights of Pythias.

At one time the brothers operated a general store on First Street, southside, near the foot of Avenue C. In all their business activities, they were among the few who did not engage in the liquor traffic as a part; of their operations. They built and operated several mills and were the first to manufacture sawed cedar shingles and beveled cedar siding which they shipped, in carload lots, to all parts of the country; the first introduced to eastern markets.
These brothers were actively associated together most of their lives, the most constructive force in the logging and saw mill industries in the early history of Snohomish County.

There are very few living descendants of these famous brothers. A daughter of E. Blackman lives in Everett, Mrs. Edith Morris. Also living is a granddaughter, a great-grandson and great great grandson. A.A. Blackman had no children. H. Blackman had a son, Clifford, who died in 1920 during the flu epidemic; and a daughter, Mrs. Eunice Fjord, 118 Ave. B, Snohomish. A granddaughter, Phyllis Bican, who lives in Sacramento, Calif., has a son, Bill.
-by Eunice Blackman Ford
---
Published: Tuesday, February 24, 2015 75,000 in Classroom Grants Snohomish Education Foundation Awards nearly $75,000 in Classroom Grants

Published: Friday, February 20, 2015 Weeknight closures of southbound SR 529 Marysville and Everett area drivers should prepare for continuing weeknight closures of southbound State Route 529.

Published: Monday, February 16, 2015 Missing 79 year-old Man Snohomish County Sheriff's Office Search and Rescue are assisting the Lake Stevens Police Department with the search for a missing 79-year-old man. Andrew A.

Published: Sunday, February 15, 2015 Washington softball team wrapped up a 4-1 weekend The No. 15 Washington softball team wrapped up a 4-1 weekend at the Littlewood Classic on Sunday with an 11-5 win over North Texas.

Published: Wednesday, February 11, 2015 Property Crimes Unit Arrests Violent Felon Last night, the North County Property Crimes Unit served a search warrant on a residence here and took a 43-year-old violent felon and his 22-year-old girlfriend.



---

Published: 2015-02-10 United Way names new board leadership Published: 2015-02-10 Snohomish Garden Club to feature speaker Trevor Cameron Published: 2015-02-09 ire District 7 Selects Jeff Schaub Published: 2015-02-05 Two Missing 16-year-old Snohomish Girls Published: 2015-02-05 Three AMHS students commit on National Signing Day. Published: 2015-02-04 Three more Glacier Peak Football Players Commit Published: 2015-02-04 Prolific tagger nabbed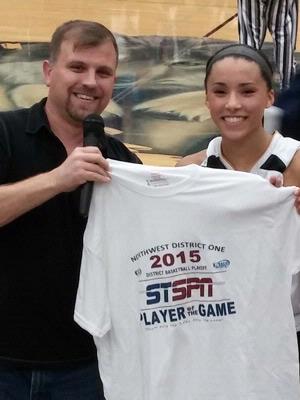 Jordyn Edwards #4
Lynnwood
Basketball Wing
For her leadership in critical district one playoff game against tough Edmonds-Woodway. Lynnwood comes back after a difficult first quarter to defeat Edmonds-Woodway 67-51.